The TCP8302.T OffLine profilometer
is designed as a free-standing system for measuring the thickness and width of rubber profiles. The system works via optical triangulation using two laser point sensors located opposite each other on the measuring head.
The measurement itself is carried out via horizontal movement of the measuring head within the measurement range and is calculated as the difference in the values from the two sensors.
The system features automatic calibration performed at regular (and customizable) intervals, where the calibration object is mounted directly in the profilometer's measurement range.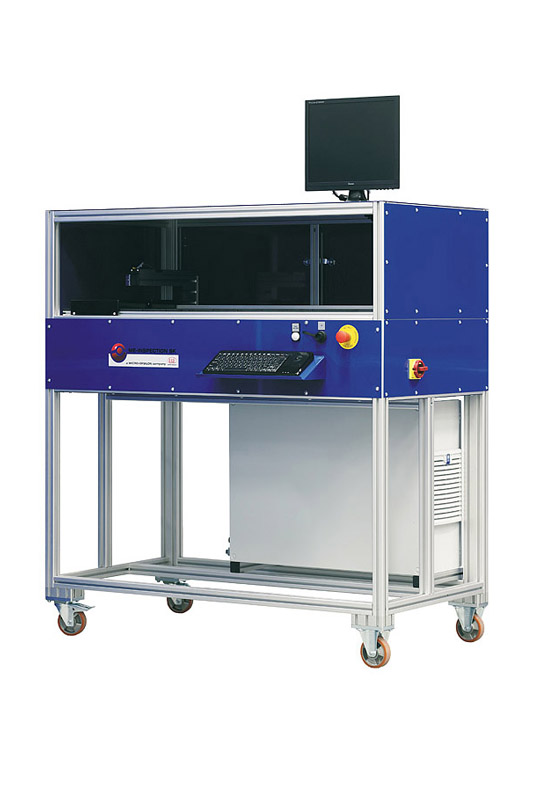 Technical parameters:
Width measurement range of up to 1,000 mm (standards are 600, 800, 1,000, and 1,200 mm)
Thickness measurement range of up to 100 mm (standards are 50 and 100 mm)
Width precision < ±100 µm (3 sigma)
Thickness precision < ±10 µm (3 sigma)
Suitable for:
tread
sidewall (1 or 2 profiles)
inner liner
rubber strips (max. 6 strips)
die
Versions:
standard offline profilometer
two-axis offline profilometer (for measuring in multiple measurement lines)
Options:
die holder
calibration unit
Benefits:
Contact-free measurement of profile geometry
The ability to relocate the measurement device within a production hall
An economical solution that will serve multiple production lines
Automatic calibration at regular intervals