Uniformity tester reconstruction
(TU / TUG / FVM)
The reconstruction of the TG lines includes replacing the electrical and pneumatic line components with the measuring system for the reading of tenziometric forces. This also includes the new control system which ensures the safe functioning of the entire line as well as the communication with other systems (conveyors, master systems for control and the collection of data). The measurement system ensures the measurement of the values of radial and lateral forces - absolute values, peak-peak values, harmonic analysis and calculates the conicity and ply steer. Calibration is carried out by means of a set of certified ballasts. The system must eliminate various external influences and therefore resolves the compensation of electrical noise on the analogue inputs, compensates real nominal down pressure and eliminates pressure variations during measurement.
Control system: Rockwell, Siemens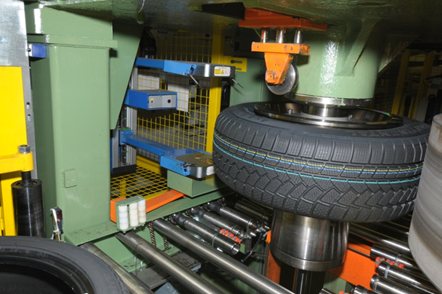 Scope of the reconstruction:
New control system, measurements and visualization
Power and air consumption measurements
Repair or the supply of a new soaping station
Repair or the supply of a new inflation system
Repair or the supply of a new machine conveyor
Repair or the supply of a new marking station
Marking quality inspection
Repair or the supply of a lift
Supply of a new geometry measurement system
Options:
DOT code reading
Tread, top and bottom sidewall imprints and barcode cross-check
Operating range:
Tire width from 95 mm to 400 mm
External diameter from 500 mm to 900 mm
Rim size 13" to 24"
Geometry measurement accuracy: < 20 µm
Force evaluation accuracy: < 5dN
Machine types: Akron, Astec, Astec PLUS, Cobelco, Hofmann, ZF
If interested, please contact the sales department.